Take Time For Yourself And Dive Into the Future With Raveis Kole Audio Phenomenon 3D Immersive Album
Music can serve as the soundtrack of our lives, but what can you do when you want to reset and refresh with a different tune? 
Raveis Kole's new audio experimental album, 3D Immersive, will be released on October 23, 2020, on the duo's streaming services. The pair wants you to take a "deep dive" and sink into the new world of 3D immersive audio with this exploding innovation. These songs have been remixed and remastered from their original stereo format to create and enhance a 3D immersive experience. When you need a trip, but can't get away, let Raveis Kole give your ears wings to fly!  
Raveis Kole's new album has been created to serve as a gateway to enter into this unique audio soundscape. The eight curated tracks have been produced, mixed, and mastered to optimize the immersive 3D experience. Some listeners will be looking to experience the sense of realism and engagement offered by a live performance. In contrast, others will desire the immersive nature of an internalized and reflective listening experience. Both are sure to find what they seek in this new music project. 
This album, 3D Immersive, was co-produced and collaboratively mixed and mastered using dearVR PRO and dearVR MUSIC software by Nashville's innovative Jeff Silverman, Raveis Kole's longtime producer and creative partner who is a pioneer in the use of this new technology. Through these programs, they were able to place every element of the songs to create individual space within the sonic field for all of the instruments. The software helped them precisely calculate how much reverb, eq, and the audio level needed to get the desired effect for the instruments' spatialization. Binaural audio mixing adds so much to the power of a song because it gives the listener the impression that this could be a live recording! It provides depth, spatiality and enriches the audio experience.  
3D Immersive required careful attention when working with the binaural mix in the mastering process. Any compression, limiting, or even equalization applied to the master directly affects the spatialization effect. Therefore, the processing at this stage needed to focus on making adjustments to the mix's individual tracks before making more subtle adjustments to the overall master. The result? You can now easily hear the 3D difference when wearing headphones and even when listening on your mobile device or your stereo loudspeaker setup.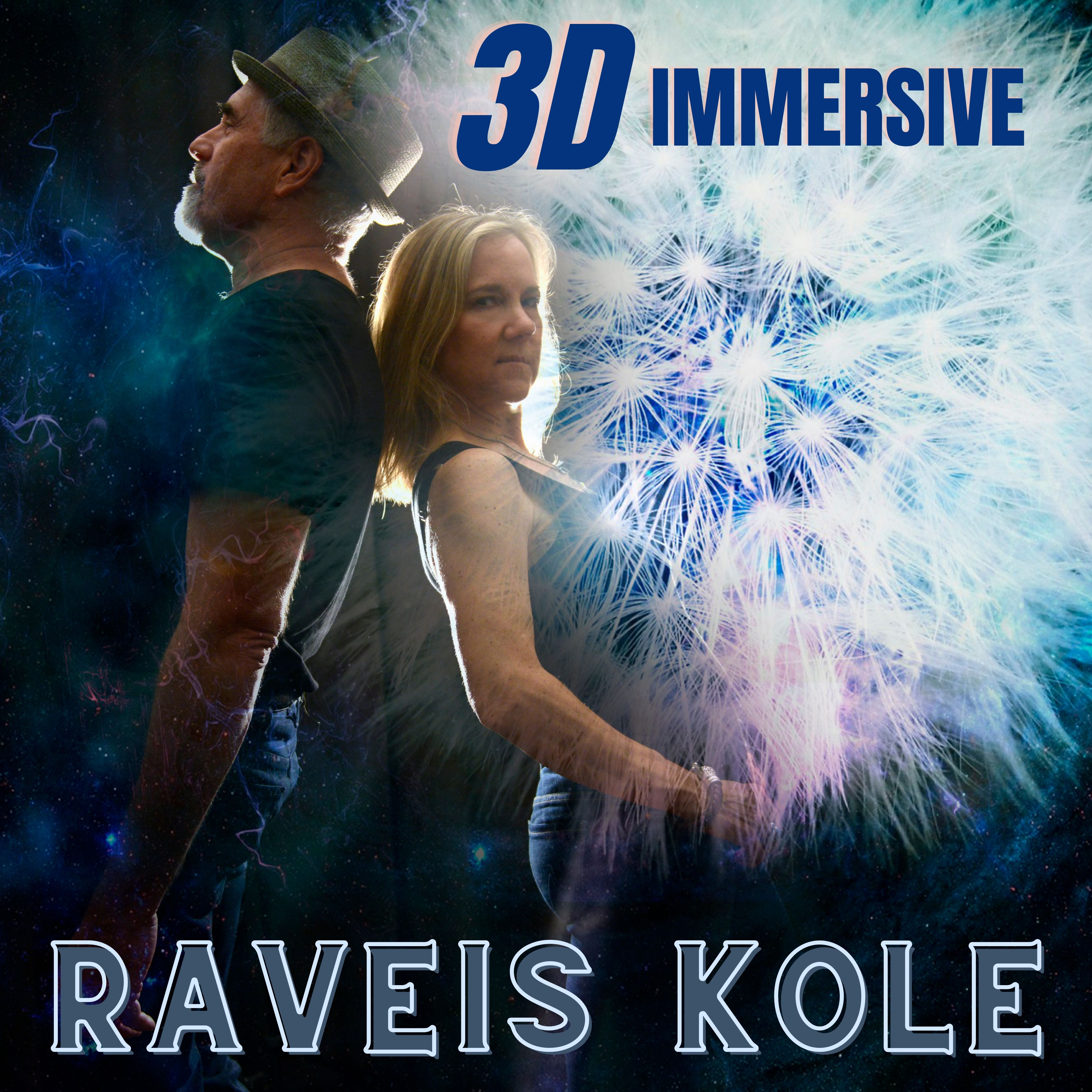 Want a quick tour map of the audio journey? Like many great literary works, the album begins with a hero's journey: a quest to find the path to forgiveness in the face of disappointment and loss. "Precipice Forgiveness (Flow is On)" opens by introducing the sounds of an exotic Eastern landscape to establish the inward journey towards forgiveness. It then carries us along on a turbulent path before it crescendos into a celebratory release and a return to inner harmony and resolution.  
The next stop on the journey is "Aloha" - a haunting descent into the obsession and despair of the world of addiction. The inner restlessness and darkness are mirrored by the percussion section's rhythmic drive, which provides a dark sonic canvas for a gypsy violin's urgency. 
The musical journey now turns again towards the light with a contemporary cover of "Angel From Montgomery" that brings this iconic classic up-tempo. It uniquely adds vocal scats and harmonies that change the lyrics' emphasis from resignation to self-empowerment and redemption. 
The upward journey continues with a unique crowd chorus prelude: "Be A Part Of The Love," that segues into "Help One Another (We All Can)" - an anthem of hope, empathy, and compassion, which is perfectly suited for our troubled times. 
The bittersweet flavors of moving forward in the face of compelling difficulties get revisited in the next song: a cover of Lady Gaga and Bradley Cooper's hit "Shallow" from the movie: A Star is Born. 
The heroic journey ends with "Into Me, You See (Here & Now)" - an original heartwarming, and tender tribute to the power of love and commitment in our lives. 
This powerful conclusion is brought back into the present moment of our daily lives with a short, concluding outro, "Sitar-Tibetan Drone Meditation," that offers a brief respite to ground and center our bodies and breath before re-engaging with the circumstances of the day. 
There is no convenient way to search for and successfully locate 3D immersive (spatialized) audio music/songs, which will work across all major streaming services. This presents both a challenge and an opportunity. While there are a growing number of recordings that have been mixed and mastered to offer this experience specifically, they can be difficult to locate unless you are familiar with the 3D experience. For music lovers interested in experiencing music in a new way that is the closest to the immersive experience of a live performance, locating this premium quality 3D audio content is a prerequisite to enjoying this novel experience. 
Check it out– don't forget your headphones!  
For streaming on your choose platform: https://fanlink.to/3DImmersive
Download on our website: https://raveiskole.com/3d-immersive