KISMET
Kismet
This playful and fun love song could've been taken from the Great American Songbook with its plucky banjo, acoustic guitar and vaudevillian mouth trombones. It might be the funniest duet to celebrate marriage since John Prine & Iris DeMent's "In Spite Of Ourselves." A Valentine's Day release perfect for any playlist with cheeky fun.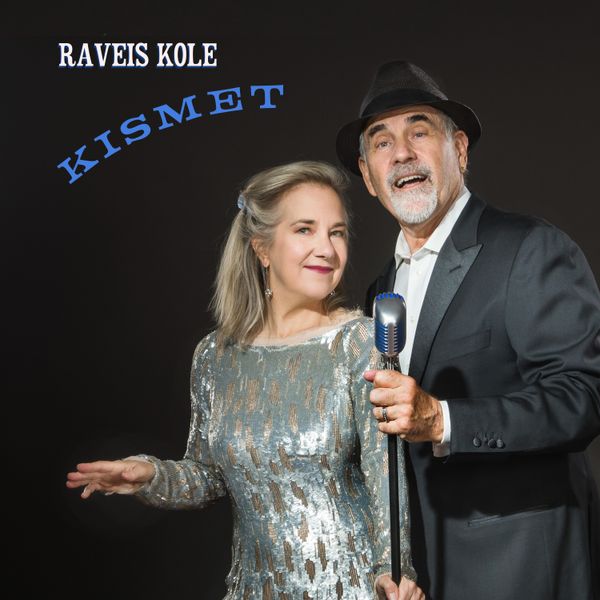 Musicians
Laurie Raveis: Vocals, Martin Acoustic Guitar, Mouth Trumpet  
Dennis Kole: Vocals, Banjo, Mouth Trombone 
 Words and Music by Laurie Raveis (BMI) and Dennis Kole (BMI)  
Published by Bop Records, Raveis Kole, LLC (BMI)
  
Produced and Arranged by Laurie Raveis, Dennis Kole and Matt Smith  
Recorded at Six String Ranch, Austin, TX and Bop Studios, Bellingham, WA  
Mixed by Matt Smith, 6 String Ranch, Austin, TX  
Mastered by Nick Landis, Austin, 
Lyrics
Kismet 
Music and Lyrics by Laurie Raveis & Dennis Kole 
© ℗ 2022 Bop Records 
I call it kismet 
I call it fate 
A lone sock in the drawer 
Finally finding its mate 
Now rainbows are brighter 
And it feels so right 
To have your head next to mine 
On the pillow each night 
One plus one 
Adds up to two 
When two solos 
Become a duo 
Words set to music 
Lyrics that rhyme 
You show me yours 
And I'll show you mine 
We'll fit them together 
Like a hand to a glove 
Until we have something 
That we both love 
Then we'll double our pleasure 
And double our fun 
When we play it out live 
To share with everyone
Sometimes we knock heads 
We tug and we pull 
Like making a bed 
With sheets all wrinkled and curled 
But when the wrinkles are pulled flat 
And the corners are tight 
We both know we'll be happy 
In the covers at night 
Bu bu bu bu bu buo 
Bu bu bu bu bu bu 
Bo bo bo bu boo bu 
Bu boo brr buu bhrr bo 
There is no end 
To the things we can do 
We're better together 
Admit that's it's true 
Like Tarzan and Jane 
Hanging out in the jungle 
Sometimes we get it right 
Sometimes we may bungle 
When the going gets rough 
We'll still be fine 
We'll be swinging together 
Holding onto our vine 
Whatever may come 
It will always be true 
We're fine on our own 
But even better as a duo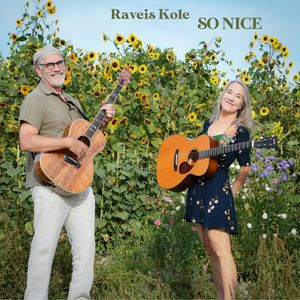 KISMET
Song Title: Kismet
Artist: Raveis Kole  
Words and Music: Laurie Raveis and Dennis Kole  
Publisher: Bop Records, Raveis Kole, LLC (BMI) 
ISRC: QZCTY2210005 
UPC: 860007283079 

Release Date: February 14, 2023
Song Length: 2:43 minutes
Licensing: 100% Clear
Contact: Laurie Raveis & Dennis Kole here
Read newsletter: How would Tarzan and Jane celebrate Valentine's Day?
How would Tarzan and Jane celebrate Valentine's Day?  
Tarzan (the King of the Jungle, aka John Clayton II, Viscount Greystoke) was the literary creation of Edgar Rice Burroughs, first appearing in the novel Tarzan of the Apes in 1912. Tarzan was the orphaned child of British aristocrats, raised in the African jungle by the Mangani great apes, ultimately becoming legendary as a male fantasy archetype; Tarzan later experiences civilization, only to ultimately reject it to return to the wild as a heroic adventurer.  
Tarzan's lifelong mate, Jane Porter, was a young 18-year-old American girl who had also become marooned in the African jungle, where she and Tarzan were fated to meet and fall in love - thus beginning their lifelong journey together as the most famous power couple since Adam and Eve.  
"Kismet" (sounds like "Kiss - met" - an auspicious beginning for a Valentine story!) "Kismet" is a word with Turkish and Arabic roots, and has a connotation of fortunate serendipity bordering on the verge of magic:  
"Timing. We give it many names: Destiny, Fate, Kismet, the will of God. Whatever we call it,  
lives are changed and molded by it, in small or drastic ways beyond our control. The precise, exquisite influence of timing moves people into new positions as surely as a spring flood rearranges the landscape. It is as unavoidable as life..." Helen Van Slyke  
"It was karma, it was kismet, it was magic. It doesn't matter how it happened, just that it did." Shannon Hale  
Tarzan and Jane - kismet - a lifetime together described by a single word!  
So today is Valentine's Day and how should we celebrate the fortunate serendipity and magic in our own lives? Beautiful flowers, delicious meals, chocolate treats and romantic gestures are always appropriate and sure to please, but if you're looking for something new:  
Check out our new song: "Kismet", the funniest and most heartfelt song about marriage since John Prine and Iris DeMent's "In Spite Of Ourselves."  
Tarzan and Jane never had the opportunity to create a Valentine's Day playlist. For that matter, they probably never even got to make a mixtape, but if they would have, I'd bet that "Kismet" would be at the top of their list! Why not put it on yours and share in the magic today?!