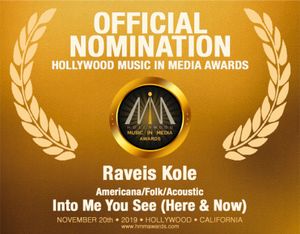 On November 20, 2019 the 2019 Hollywood Music in Media Award winners will be announced at the historic Avalon Theater in Hollywood, Los Angeles, California.The HMMA main event will feature live music performances, celebrity presenters, tributes to music industry icons, and awards for composers, songwriters and artists. The HMMA also celebrates emerging, independent artists and music influencers from around the globe for creative and innovative contributions. 
"The annual celebration of music in film, TV, video games, commercials and trailers is one of the better predictors of the best original score and best original song Golden Globe and Oscar categories." ~ The Hollywood Reporter ~
Laurie and I will be there to be part of the action as we celebrate our 2019 nomination for our song "Into Me You See (Here & Now)" for best Americana/Folk/Acoustic song. Laurie wrote IMYS to celebrate the joy and richness of making the lifetime commitment to love, honor, respect and accept that lies at the heart of the marital/committed relationship. "Into Me You See" (which intentionally sounds like "intimacy") celebrates this decision and this journey, and captures the beauty and elegant simplicity of the wedding vows of commitment to one another.  
This song is like looking back at your own wedding photograph: when we perform it, or even when I just listen to it, I am always transported back in time to the memories and emotions of our own wedding experience. If you want to relive your own experience, or are planning to "tie the knot" in the near future, you can check it out here:  
Listen on your preferred platform: https://fanlink.to/imys-hmma