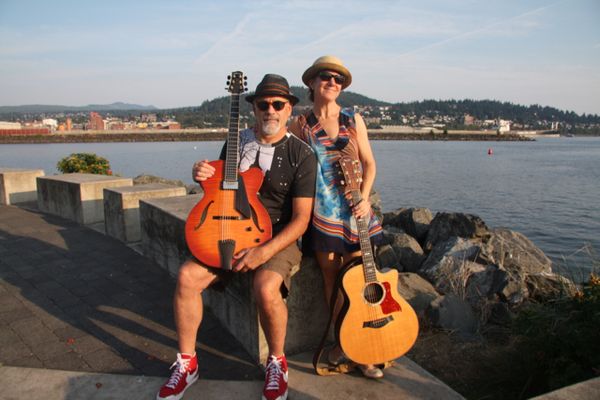 Roger Sadowsky started work as an acoustic guitar maker in 1972 and, over time, has evolved to become a pre-eminent boutique luthier supplying instruments to many world class guitarists and bass players. Roger Sadowsky has built bass guitars and bass amplifiers for virtuosos such as Marcus Miller and Verdine White; electric guitars for Andy Summers, Keith Richards, Pat Metheny and Lee Ritenour; and archtop guitars for jazz legends Jim Hall, Jimmy Bruno and Kurt Rosenwinkel. Roger also famously built a pair of guitars for Prince that featured custom "plumbing" for use as a stage effect - for more details check out https://www.fretboardjournal.com/podcasts/podcast-105-making-guitars-prince/. 
I play a Sadowsky Jim Hall model archtop guitar that was developed by Roger Sadowsky in conjunction with jazz guitar legend Jim Hall. The body is a 5 ply maple laminate and I use flat wound strings (D'Addario Chromes ECG25 .012 to .052).  You might think that a jazz archtop guitar is an unusual choice for an acoustic Americana duo - what's up with that, what is he thinking? 
If you have ever been to a kids entry level soccer game you were probably treated to the sight of a cluster of players grouped around the ball and following it in clumps up and down the field. With coaching and experience the young players learn to space themselves in an intentional manner and to leave space for their teammates so that the team can become more than a collection of individuals. 
When I perform with Laurie I want to use a guitar that adds its own voice to our sound, and which does not conflict or compete with what she is doing. In addition, as a guitar based duo we also need to be able to vary what we are doing with our instruments so that the sonic palette of the audience remains fresh and does not become fatigued. My Sadowsky is like a treasure chest of acoustic spices and allows me to do this. 
For example, I may want to emphasize a percussive element and temporarily pretend that I am a bass player. The thick flat wound strings combine with the archtop body to give a deep woody sound that is reminiscent of an upright bass. (This is particularly noticeable if I am able to use a tube amplifier or tube preamp such as the REDDI box). If I also drop my lowest string from E to a D, the resulting fingering pattern for my low strings becomes even more similar to that of a 4 string bass. Other times I may want to play up the neck on the high strings to mimic the sound of a mandolin. Another possibility is to emulate the sound of a pad type instrument with long, sustained chords and sometimes I may also want to add heavy vibrato like a bowed violin. 
Although any one of these sounds may be best realized through using a different instrument, the magic for me is that I can still approximate these different elements using only one instrument and can switch back and forth within the same song if necessary or desired. This is particularly useful in a live performance setting as different songs call for different "seasonings" and my Sadowsky always seems up to the task! All in all, a stunning guitar and while I play a traditional Sienna burst model, it is even offered in a stunning Bora Bora Blue!!!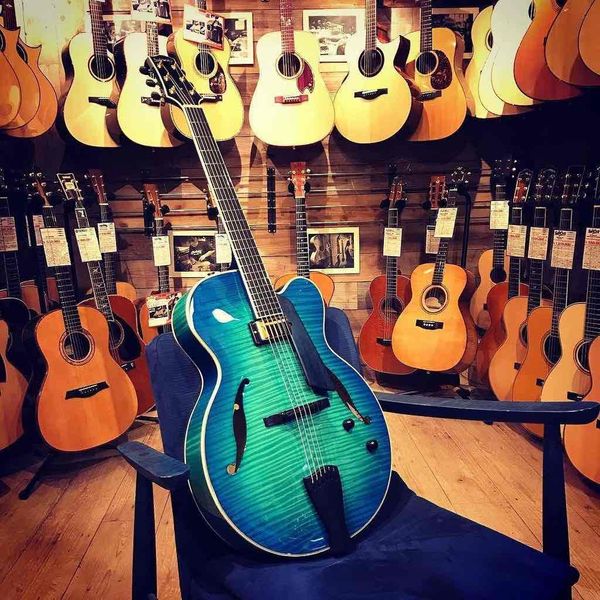 More on Sadowsky Guitars
Sadowsky Guitars, Archtop luthier, Jim Hall, Americana Acoustic duo, Bora Bora Blue, Prince Guitars, REDDI